British News, Storm Brian on the way
マイケルズイングリッシュスクール 天王寺英会話
There's a storm on the way to the UK!
Friday 20th of October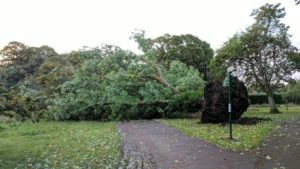 Unlike Japan, the UK does not get very many big hurricanes. This is only the second storm of the year and its name is Brian. The met office has issued a "Yellow" warning, saying to expect some flooding in Southern and Western parts of the UK and Wales. In costal areas there may also be large waves and delays in transport like trains and buses. Flights will probably be cancelled.
Hurricane Vs Typhoon

A large rotating storm may be called a hurricane or a typhoon or even a cyclone, but what is the difference between these three terms?
Nothing! Well… the weather is the same, it's the location that's different. In the Atlantic and Northeast Pacific, a large storm is called a hurricane. The same type of weather in the Northwest Pacific is called a typhoon and cyclones arise in the South Pacific and Indian Ocean.
Big storms in the UK
Because the UK hardly ever experiences large hurricanes, when we do they can be quite devastating. 2013 was a particularly bad year with four large storms hitting the uk, they caused damage in large parts of the uk including one teacher's hometown, where many trees were knocked over.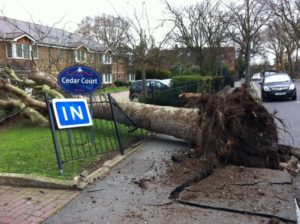 Vocabulary for talking about storms
| | |
| --- | --- |
| English | Japanese |
| Hurricane | ハリケーン, 台風 |
| Damage | 被害 |
| Hit | 打つ |
| Met Office | 気象庁 |
| Transport disruption | |
| Forcaster | 輸送中断 |
| High tides | 満潮 |
| Evacuate | 避難する |